My family loves to get together and watch movies and then have in-depth discussions about the casting, direction, plot, music, etc. Other people (ahem... in-laws) don't always appreciate or participate in these discussions, but we love it. These discussions are fun, lively and usually punctuated with lots of laughter. I am very blessed.
Tonight we watched the new Blu-Ray release of an old family favorite, "Little Shop of Horrors", starring Rick Moranis and Ellen Greene. If you're not familiar with this one, it's an old story, with an old black-and-white non-musical film version (from 1960, I think) about an alien plant that comes to earth, convinces an unassuming gardener to feed it blood and proceeds to take over the Earth. It's campy, cheesy, goofy and loads of fun.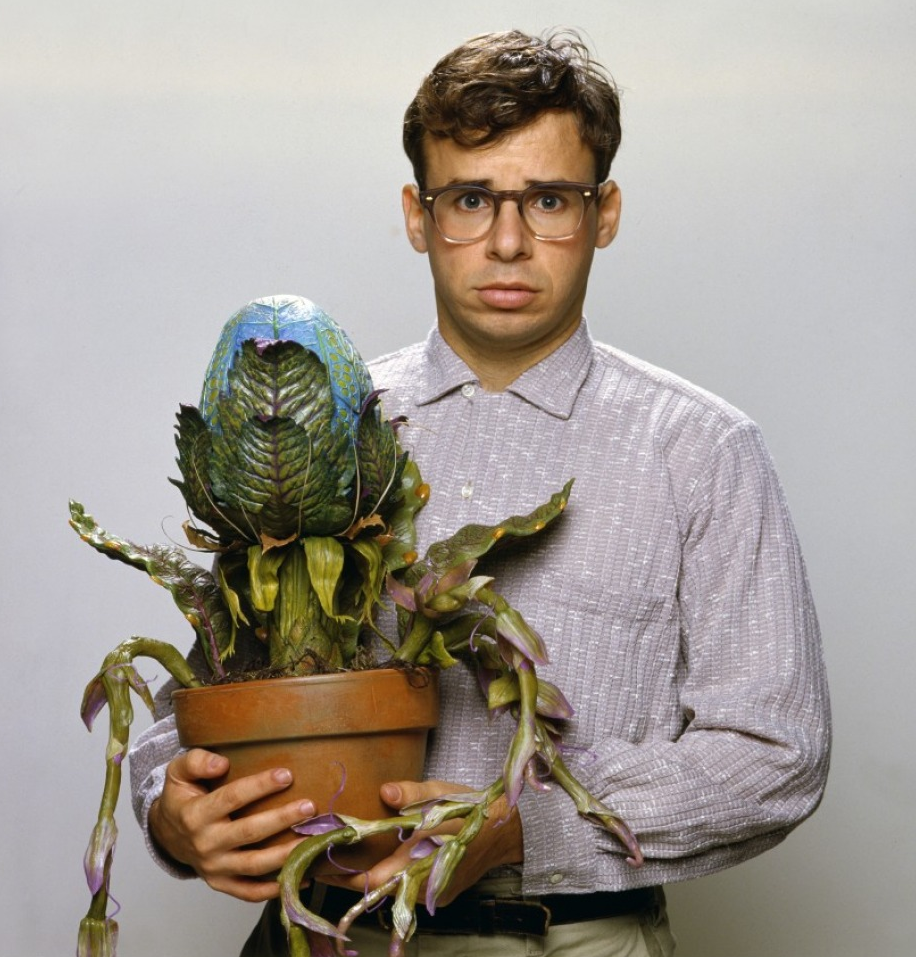 Rick Moranis and Audrey II
It was made into an Off-Broadway musical in 1982 and adapted in this film version in 1986. I have seen the stage version, been in a community theater production, and have seen the movie often enough to know it by heart. When I was a teenager, my brother Danny (who would have been about 7-9 years old??) and I would sit at the piano and sing "Suddenly Seymour" (a duet not written for a brother and sister, but we both loved the show so much we didn't care-- it was a blast to just belt it out together. Plus we sounded awesome...)
That's me in the center on the front row.
The film is colorful, over-the-top fun. The story is set in 1960, and the costume director must have had a lot of fun creating the great outfits for the various characters. The staging is good, the direction and editing are tight and the performances are all spot-on. Seriously, no one is woefully miscast. Everyone carries their vocals well and sinks deeply into character. From the floral shop owner played by Vincent Gardenia to Steve Martin's sadistic dentist to cameos by Bill Murray, John Candy, James Belushi and a hilarious Christopher Guest, everyone is perfectly cast. It is so refreshing following the recent slew of gag-inducing casting choices by Hollywood musical makers.
Pierce Brosnan in "Mamma Mia". According to my brother (who knows lots of such trivia) the filmmakers wanted to dub his singing parts and he insisted on singing them himself. Audiences cringed worldwide. Ah the Hollywood ego...
Gerard Butler was a terrible choice for the Phantom. The acting was difficult to watch and the singing wasn't any better. I know he has a huge fan base, but I can't see why. Truly. Maybe because this was the first thing I watched him in and vowed henceforth to avoid his movies like I avoid taking cough syrup.
I am a huge Johnny Depp fan. I also generally enjoy Helena Bonham Carter's work. BUT, much as I love Johnny, and I'm sure he was an acceptable Sweeney Todd, his singing voice is too weak for Broadway-caliber songs. There. I said it. It breaks my heart to say it, but I did.
And Bonham Carter? Atrocious. Sorry, it's true. Her singing is almost painful. Which is a good segue to my next submission... the pain-inducing Exhibit D:
I was so excited about this filmed concert version of "Les Miserables" that I didn't care much that some idiotic upper management types thought casting Nick Jonas in the part of Marius would bring in more viewers. I watched it anyway. And I was glad I did, as Alfie Boe took my breath away (read more here). But Jonas? The unparalleled weak link. He can sing on pitch (much to my relief, after having sat through Brosnan and Butler's performances), but he is so desperately outperformed by his fellow castmates, that I couldn't help but feel sorry for him. But not for those who chose to cast him. Them I just despised.
I'm sure there are other titles I've missed that had that odd miscast character, tell me what you think. :) My point is that "Little Shop" is excellent and perfectly cast. Rick Moranis is adorable, Ellen Greene is comical and loveable, and everyone else is excellent as well. There were some changes in the transition from stage to screen, songs dropped and a new song added, but that doesn't take away from it. It's a wonderful little movie and a very fun musical. If you can handle the subject matter, that is.
Oh, and BONUS! Included in the bonus material on the disc is the original ending (based on the stage version ending) that audiences hated! It was re-shot before being released.
OH! I almost forgot. The upcoming "Les Miserables" theatrical film? Looks like it's well cast for the most part, but Russel Crowe will have to prove himself to hardcore fans. So far from the trailers, he seems to be the weakest singer of the main stars. We shall see...