Each October I eagerly look forward to my yearly screening of what I consider to be the most entertaining, balanced, well-written animated short in existence. Not that I've seen all that many, I confess. But this one? Hands down my favorite cartoon ever. I'm talking about Disney's "The Legend of Sleepy Hollow". Narrated by Bing Crosby, this hilarious take on the classic Washington Irving short story is engaging and entertaining from the very first frame until the last. There isn't a single slow or over-written moment. The script is witty and crisp, balanced by an impeccable score. The 63-year old animation holds up very well, even by today's standards. (It was released in 1949.)
My love for this show could be in large part because I have always loved Halloween and spooky-but-not-gory shows and stories. My birthday is in October and I have an insatiable sweet tooth, so Halloween has always had a special place in my heart. Though, for me, Halloween is little kids in costumes, free candy, Charlie Brown (another MUST see Halloween special is 1966's "It's the Great Pumpkin, Charlie Brown!"), non-threatening decorations and good, clean fun-- not so much what it has become today. "Sleepy Hollow" embodies all of that for me.
It is my life-long wish to host a Van Tassel Halloween party, complete with a huge fireplace, a live 3-4 piece orchestra, dancing, lots of food, and decor including corn stalks and Jack-O-Lanterns, and friends and family gathering around the fire to hear good ghost stories when the hour grows late... One of these days... :)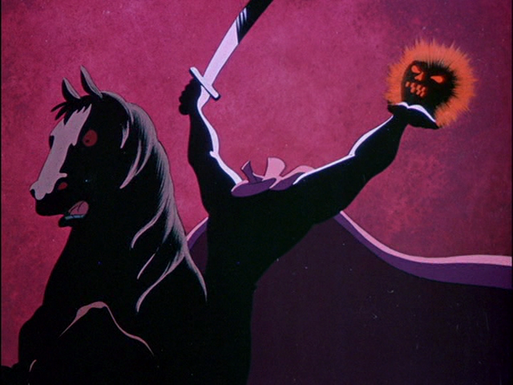 If you've never given it a look, you should try to find a better version of "The Legend of Sleepy Hollow" than what's on Youtube. Your computer's speakers surely can't do old Bing's narration justice. I'm not sure if it's available on its own, my copy is on a DVD called "Ichabod and Mr. Toad" and is preceded by the dull, dull, boring and dull Mr. Toad cartoon. We always go straight to selecting chapters and skip right past Mr. Toad so we don't fall asleep before Ichabod gets his turn.